Amazon Web Services (AWS) is a cloud computing platform that offers a wide range of services for businesses of all sizes. It was launched by Amazon in 2006, and since then, it has become one of the most popular cloud computing services available.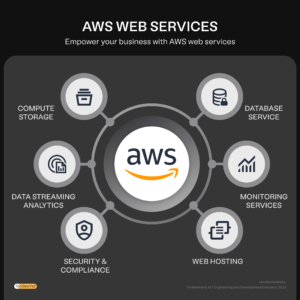 Here are some interesting facts about AWS:
AWS is the largest cloud computing provider in the world, with a market share of around 33%.

AWS was launched in 2006 and was initially designed to provide computing infrastructure to Amazon's own retail operations. However, it quickly grew to become a standalone business.

AWS has more than 200 services available, including computing, storage, database, analytics, machine learning, and security.

Some of the world's biggest companies, including Netflix, Airbnb, and Spotify, run their operations on AWS.

AWS has data centers in 25 geographic regions around the world, with plans to open three more in the coming years.

AWS has more than one million active customers, including startups, enterprises, and government organizations.

AWS generates more than $40 billion in revenue each year and is one of Amazon's most profitable business units.

AWS was the first cloud computing provider to offer infrastructure-as-a-service (IaaS) to customers, which has become the most popular cloud computing model.

AWS has a massive global network of content delivery servers, which allows it to deliver content and applications quickly and efficiently to customers around the world.

AWS is constantly innovating and has released a number of groundbreaking technologies in recent years, including serverless computing, machine learning, and artificial intelligence.
Fordewind.io is an IoT engineering and development company based in Kyiv, Ukraine. Our main areas of interest and expertise are the automotive industry and Smart Home/City projects. Contact us right now without a doubt and learn more about how we can help you build the future.