Languages of the future
For the seventh consecutive year, JavaScript is the most commonly used programming language, but Python has increased again in the ranks. This year, Python has just surpassed Java the overall ranking, much as he surpassed C# last year and PHP the previous year. Python is the fastest programming language that is experiencing the fastest growth today.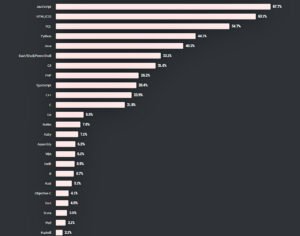 Information was taken from https://insights.stackoverflow.com/survey/2020#technology-programming-scripting-and-markup-languages-all-respondents
1.JavaScript
Are you looking for an opportunity in front of you? Please choose JavaScript. There are as many vacancies as there are courses. Furthermore, JavaScript is among the trend programming languages in GitHub. Although language itself is not a difficult language, the frames that accompany it and the front-line infrastructure are studied with it. 
2. HTML/CSS
HTML is the basis for all web pages. Defines the structure of a page, whereas CSS defines the style of a page. HTML and CSS are the beginning of everything you need to know to do your first website! Learn both of them and start creating amazing web sites.
3. SQL
You will learn to read and write complex questions in a database using one of the most demanded skills – PostgreSQL. These skills also apply to any other important SQL database such as MySQL, Microsoft SQL Server, Amazon Redshift, Oracle, and much more.
Learning SQL is one of the fastest ways to improve your career prospects because it is one of the most technical skills in demand! 
4. Python
Most of the time, Python is chosen as the first programming language for learning. It's simpler than others and often has solutions to basic problems. It may be called not as effective as the same C ++, but this language has its own areas where it is actively used. Python is used for machine learning, backend of various web services, data science, and system administration.
5.  Java
Even if Java is part of the word JavaScript, this language has nothing to do with JavaScript. In Java's case, he's actively involved in the backend. Many people say that this language is no longer required, but for one reason or another, all related conferences, vacant positions, courses speak of something else. 
6. Bash/Shell/PowerShell
PowerShell is a configuration management tool that provides control capabilities of the Linux command-line interface (LIC) in the historically point-and-click Windows environment to manage Windows servers in virtual deployments. Administrators can manage workloads of Windows servers or host workloads of Linux production and server applications via PowerShell.
Bash, on the other hand, is more traditionally adapted to the development environments. It has been introduced to complement and strengthen the ICL-based interaction. With the addition of Bash to Windows, the code that infrastructure developers or engineers write for Linux also works on their Windows systems as well. Image of Linux tools – Python, Ruby, Git – that are common in DevOps stores that work directly on Windows.
7. C#
C# may be considered an analog of Microsoft in Java, but in reality, it's not quite true. C # is used as a part of the.NET framework. Previously, if you were planning to develop programs for Windows only, then C # was the best option. Now, when many people do tasks only in the browsers, C # has become close to Java and can also be studied together.
Fordewind.io is an IoT engineering and development company based in Kiev, Ukraine. Our main areas of interest and expertise are the automotive industry and Smart Home/City projects. Contact us right now without a doubt and learn more about how we can help you build the future.