Custom Software Development for Horse Training Platform
"We now have a very good product that we can use, so we're in a very advantageous position. We get daily positive feedback from our users saying they're happy with how the platform looks and how it operates." – a phrase that every developer wants to hear at the end of the project.
And now we can reread it every day thanks to our client and Clutch – a research organization that analyzes and compiles a rating of IT companies.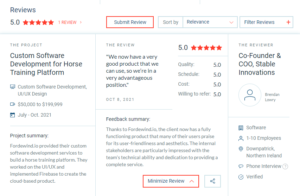 Our Northern Ireland client Stable Innovation – a hardware and software platform that determines the health and well-being of horses. You can identify an athletic talent early, keep horses at their peak longer, and anticipate any drop in performance before it happens. Soon to be an industry benchmark in horse fitness and wellbeing tracking.
Together we worked on:
document requirements
UI / UX
the creation of the algorithm
business analysis
some VA work
databases for the implementation of algorithms
product testing
cloud platform using Google Firebase and implemented it for users.
Fordewind.io is an IoT engineering and development company based in Kyiv, Ukraine. Our main areas of interest and expertise are the automotive industry and Smart Home/City projects. Contact us right now without a doubt and learn more about how we can help you build the future.