Founded in 2015, Fordewind.io has been one of the go-to custom software and IoT development companies in Ukraine. Our dedication to our craft has managed to lead us to incredible success and accolades in the industry. Last 2021, we are very happy to cross an astounding milestone as we debut on Clutch's platform.
In case you didn't know, Clutch is a B2B ratings and reviews platform based in Washington, DC. They evaluate technology service and solutions companies based on the quality of work, thought leadership, and client reviews.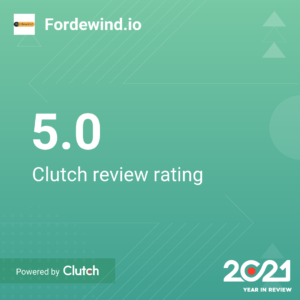 As a matter of fact, we are very happy to look back on a successful year with Clutch! Apart from our first review on their platform, we are also very happy to announce that our average review rating for 2021 is a perfect 5.0-star rating. Furthermore, 100% of our clients were willing to refer us to their friends, family, and even colleagues.
Here is our favorite excerpt  from one of our reviews:
"We were very impressed with their ability to perform their tasks. We spent a long time working out the different user profiles and journeys before we jumped to the development of the project. Additionally, they were very open and honest about what they could and couldn't do, and what products they would recommend." Co-Founder & COO at Stable Innovations, Brendan Lowry.
Apart from debuting on their platform, it is also a huge honor to be considered a top company on Clutch. To be named as one of the leading development companies in Ukraine on Clutch is truly one of the highlights of our year.
Looking for a development partner for your next project? Look no further, our team is here to help! Drop us a line today.
Fordewind.io is an IoT engineering and development company based in Kyiv, Ukraine. Our main areas of interest and expertise are the automotive industry and Smart Home/City projects. Contact us right now without a doubt and learn more about how we can help you build the future.