Hundreds of soldiers and civilians die every day in the Ukraine war. Whole cities are completely destroyed, many families have lost their homes and more than three million people are still on the run from the Russian power of destruction. And: About half of them are children. Aid organizations are forming across Europe to do something about the humanitarian crisis.
The students at a school in Bad Waldsee (Germany) have also done their part to ensure that aid arrives in Ukraine. Across classes and with other volunteer helpers, they have put together aid packages with all kinds of food. But that's not all: Each package is provided with greetings and self-painted pictures.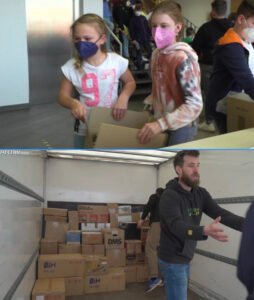 We successfully helped to transfer humanitarian cargo with the privet initiation from our customer employee to Okhmatdit, a multidisciplinary diagnostic medical institution that provides specialized highly qualified medical care to the children's population of Ukraine. 
At present, the car has been unloaded, the goods will be distributed according to the declared needs.
Here you can see the video Regio-TV.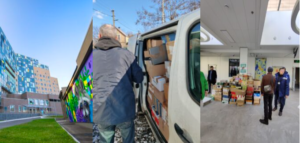 We would like to express our special thanks to these people:
Here's how everyone can help:
Donate to our army. No, it's not investing in aggression, it's necessary self-defense against the war we didn't ask for. I'm proud of our army and I pray for them to stay alive. Help them stay alive and come home to their families (link to donate https://bank.gov.ua/en/news/all/natsionalniy-bank-vidkriv-spetsrahunok-dlya-zboru-koshtiv-na-potrebi-armiyi).

Reach out to your Russian friends, even if you assume they are safe and understand what's happening, some of their friends might not. Urge them to protest.

Keep sharing information to show your support and pressure NATO and other allies to finally show some support as well.

As you might know, Ukraine has a lot of small&medium businesses and start-ups. Right now local brands are trying to run their work and contribute to the Ukrainian economy (link to donate https://support-ukrainian-business.super.site/).

Don't treat it as 'Ukrainian war', it will be 'everyones war' if it's not gonna stop now. Don't wait for it to be on your doorsteps to act. It might be too late then (link to donate https://viyna.net/).
From Fordewind.io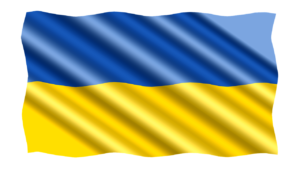 For our relatives, for our families, for our Ukraine!
Для наших рідних, для наших сімей, для нашої України!
Fordewind.io is an IoT engineering and development company based in Kyiv, Ukraine. Our main areas of interest and expertise are OUR COUNTRY, the automotive industry and Smart Home/City projects. Contact us right now without a doubt and learn more about how we can help you build the future.