Tuya Smart is the world's leading IoT Cloud Platform that enables brands, OEMs, developers, and retail chains to develop AIoT PaaS solutions. It provides hardware development tools, global cloud services, and smart business platform development, fully empowering enterprises with Tuya Ecosystem from technology to marketing channels to build the world's leading IoT Cloud Platform.

Tuya IoT Platform is an AI+IoT platform that provides smart product development, app creation and publishing, remote device management, production, purchase, data analytics, and operations. It gives IoT-enabled support to all industries and developers during the whole industry process including R&D, production, sales, and operations. In this way, help cut R&D costs, improve productivity, enhance global sales capabilities, and promote refined operations of end-users.
As of December 31, 2020, Tuya IoT Platform served more than 262,000 registered developers and generated over 122 million daily AI voice interactions and over 84 billion daily cloud requests. Tuya has empowered 252,000 device SKUs, and its services cover over 220 countries and regions, influencing more than 100,000 online or offline sales channels.
The Platform not only provides online self-service tools for customers to implement AI+IoT, but also provides comprehensive services including standard procedures, division of work, online transaction, and technical support.
Self-service development
Tuya IoT Platform is committed to solving various problems that you may face during self-service development, including design of things data models, firmware selection, embedded development, and app development. You can complete the development online with low cost and high efficiency.
Over the years, with the success of a large number of projects and products, Tuya has built a complete self-service development platform model at an early stage and has continued to update and iterate it till now.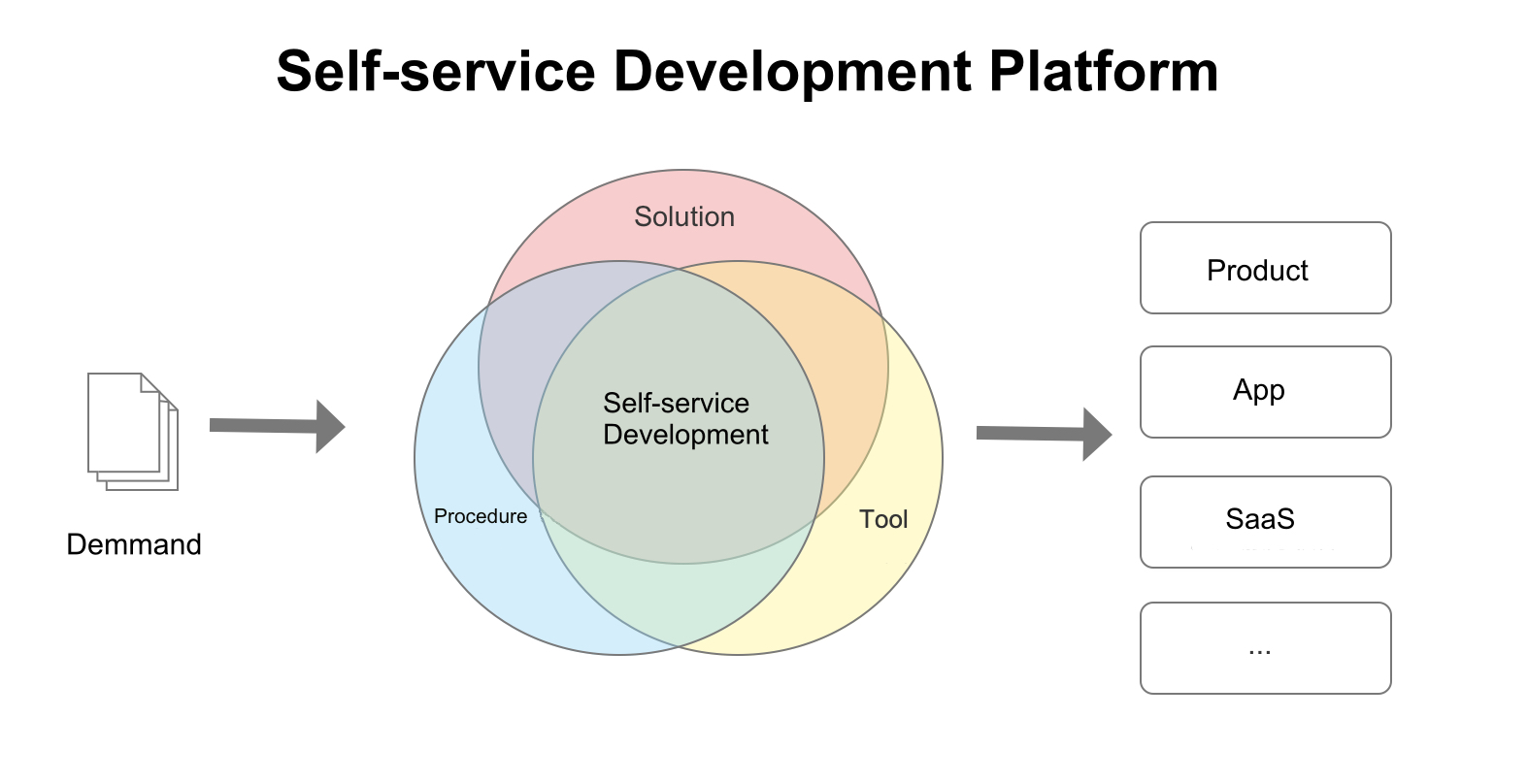 Solutions
Building IoT solutions rapidly is a unique capability of Tuya IoT Platform. The solutions range from product development, app development, to cloud development.
Tuya has made thousands of product development solutions covering function design, panel templates, firmware, available hardware such as modules and PBCA, test cases, and preset configuration. You can enable them with one click or personalize and retrofit the existing ones. With the mass-produced smart product solution templates, anyone, even project executives without any development experience, can build IoT products rapidly.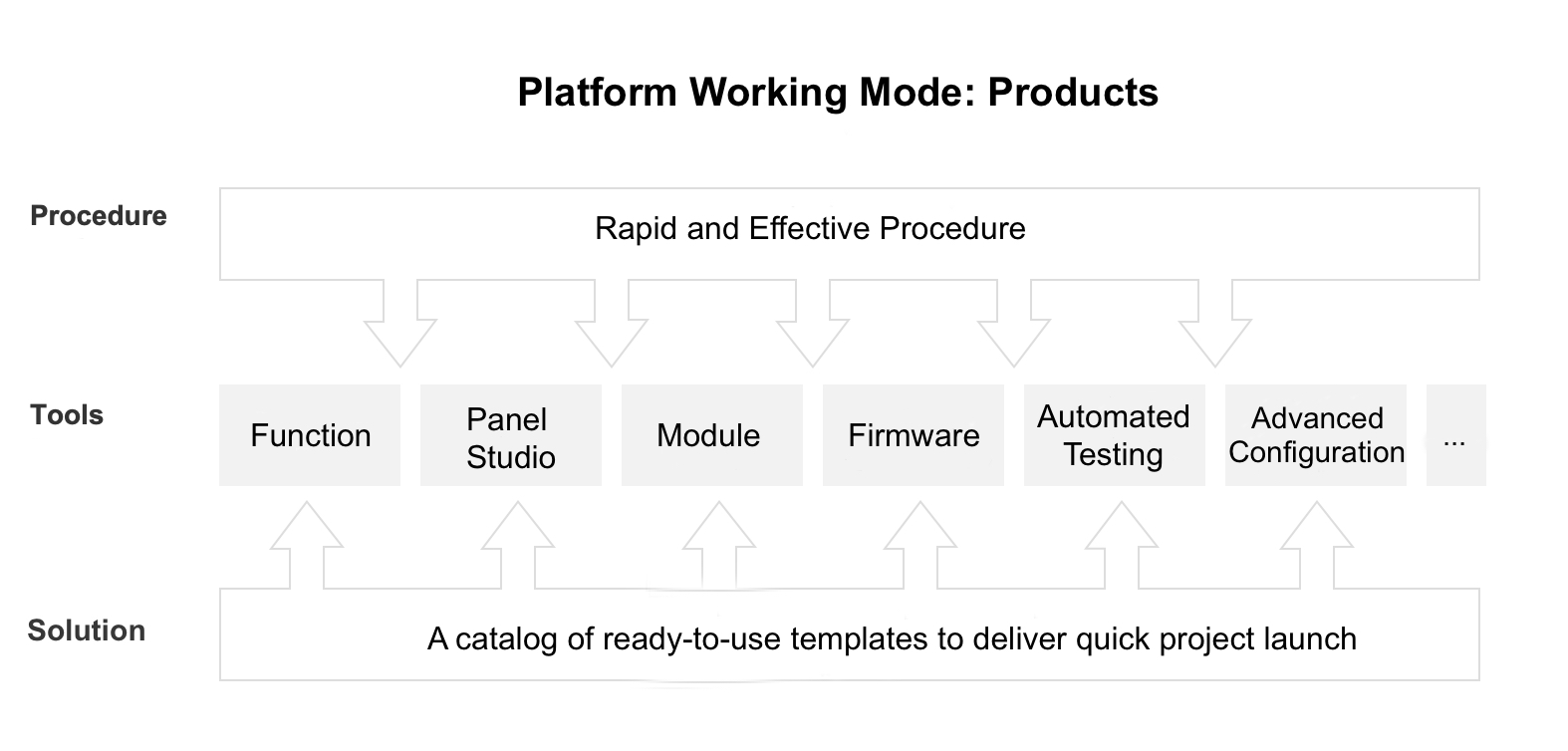 Process
In 2015, Tuya IoT Platform introduced a five-step development process for creating smart products, starting the trend to simplify the process with low-code tools. In this way, rookies and hardware developers new to the field can learn the process quickly and finish the development step by step. Since then, the five-step process has become the industry's model for low-code IoT product development.
In addition to product development, the Platform has iterated and introduced development processes for the app, mini-program, and cloud, which have greatly reduced the development time and cost.
Development tools
Another core capability of the Platform is development tools. Currently, Tuya IoT Platform provides diverse tools including Panel Studio with visualized drag-and-drop design, debugging panel, virtual device debugging through cloud commands, visualized no-code firmware configuration, Tuya Cloud Test app which supports automation test, and tools for auto-generating app certificates and QR codes online. These tools assist R&D and enhance efficiency and accuracy while simplifying the operation.
More useful tools will be introduced in the future.
Self-service transaction
On the Platform, individuals and organizations can not only develop smart products online, but can also purchase modules, item components, and licenses, and subscribe to cloud services and other value-added services.
Parameter and manufacturing of items vary depending on devices. The traditional supply chain model may pose risks like rework due to its low efficiency, long goods-preparing period, and incorrect production information. To meet customers' needs of rapid scheduling and mass production with low cost and high efficiency, Tuya IoT Platform provides users with self-service transactions from the R&D process to the final delivery, offering complete services of IoT supply chain including online production information, online order submittal, online payment, online contract signing, and online order information.
Self-service IoT management
After devices are connected to the cloud in batches, there will be related work including maintenance management, updates, data analytics, and after-sales services. It is costive to manage and maintain each device locally, and with the increasing number of devices, it is even impossible to do this. On the Tuya IoT Platform, developers, operations engineers, marketing personnel, and customer services personnel can conveniently work online, enhancing user experience by reducing much cost and response time.
The IoT management on the Platform consists of the following three parts. With account authorization, work can be done easily.
Remote O&M
With the device management service, developers and operations engineers can monitor all devices connected to the Tuya IoT Cloud, track their logs, remotely manage them, and provide OTA updates worldwide. When a device is in preset status or reporting specified data, it can send notifications to the device users and operations engineers for immediate handling.


Data analytics
Data transmitted by connected devices and apps will be displayed on the Tuya IoT Platform with various statistical methods after desensitization and encryption in accordance with security regulations. Developers, market researchers, and operations personnel can analyze the data extensively and deeply. Common data statistics of devices, apps, and user feedback, are clearly displayed through the visual dashboards. According to the actual analysis needs, the Platform provides a variety of statistical methods and tools, such as statistics based on specified time or regions, or statistical comparison by number or percentage.
In addition to dashboards, data processing personnel can download raw data materials for deep analysis to meet personalized needs.
After-sales operations
The Platform provides various tools for interacting with end-users, such as email, app message, and app splash screen. The tools help send daily operations messages and promote marketing. Moreover, operations personnel can query and manage their users on the Platform, receive customer feedback, communicate with customers online, and edit knowledge displayed on the app, and much more. In this way, maintain user relationships, deal with customers' problems, and enhance the service experience.
Technical support
The Platform provides all kinds of technical support online including professional teams in various fields, so as to assist you in the process of development, management, and transaction.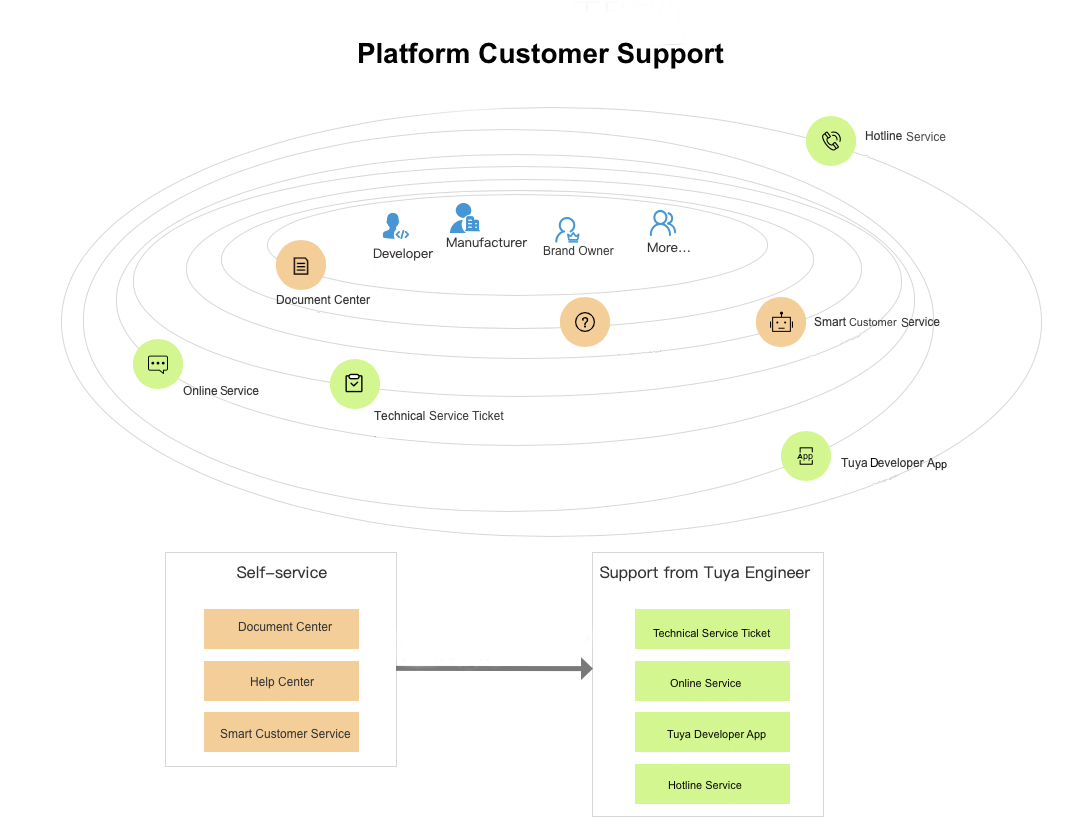 Different support tools can be applied to different service scenarios.
Technical service ticket: Tuya handles technical problems related to product development and other operations on the Platform.
Project management groups on the Tuya Developer app: You can contact project members quickly, have a live session, and a video or audio conference.
Online customer services: Tuya facilitates locating problems as soon as possible and offers guidance for customers.
Fordewind.io is an IoT engineering and development company based in Kyiv, Ukraine. Our main areas of interest and expertise are the automotive industry and Smart Home/City projects. Contact us right now without a doubt and learn more about how we can help you build the future.