Smart homes are not just for the rich and famous anymore. With a trip to the hardware store, you can make your home or office a little more automated and a little easier to manage.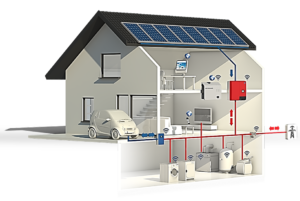 If you haven't dabbled already, here are eight smart home devices you need to know about:
Smart thermostats. The Nest Learning Thermostat is the most famous because it can learn your habits and automatically schedule your temperature changes. It's among the thermostats that work with public utilities, too, to help save energy and give customers rebates. Smart thermostats from many companies can tell when you're home and when you're not, so you don't waste money cooling or heating the house when you don't need to.
Smart ovens. I love my Tovala. Whether I get meals from them, which are surprisingly delicious, or just create my own, a few taps of the app, and it does all the hard parts of combining the broiler, roaster, and steamer to make food come out perfectly. Other ovens, like the June oven, can even tell what food you put in them and be ready to cook them immediately. Lets you bake, roast, slow cook, sous vide, and steam food to perfection, making it one of the smartest countertop ovens you can buy. Its companion app allows you to control and monitor the oven from your phone, load cooking presets onto the machine with a tap and offers step-by-step cooking instructions for chef-level results.
And of course, no kitchen would be complete without a coffee maker. In the ultimate smart home, even your bean-brewing machine is connected. Smart coffee makers allow for app and voice control, so the only thing standing between you and a java jolt is a couple of taps on your phone or the phrase, "Alexa, turn on my coffee maker."
Smart doorbells. The ring has been joined by a dozen other companies making competent, connected doorbells. For me, the best part about a smart doorbell is being able to chat with the person at your door without having to open it. Plus, motion detection is pretty reliable at letting me know when a package has been dropped off so I can get it off the porch faster. For those times you want to check whether it's a delivery person or an unwanted solicitor knocking on your door, a video doorbell will let you see who's there without getting up from the couch. Beyond this convenience, video doorbells can serve as the first line of defense against property theft, home invasion, and porch pirates. They not only let you see and speak with the person outside, but they also record footage of visitors that approach your door while you're away or unable to answer.
Another piece of technology you'll want on your front door is a smart lock. Arguably the most important part of a truly connected home, these devices offer both security and flexibility, letting you come and go as you please, and monitor who is entering and leaving your home while you're away.
Smart curtains. The classic automatic home move is the curtains that open themselves. Every self-respecting Japanese robot hotel has them. They've been a tad bit complicated to implement, sometimes requiring special curtain equipment, but the SwitchBot Curtain attaches to any curtain rod letting you control it with your phone, or with the SwitchBot Hub Mini, your voice.
Smart assistants. Did I say voice? One way to manage all your smart devices, including smart light bulbs and electric outlets, is a smart assistant. Beyond playing music, our favorite models serve as a sort of central command center, letting you control pretty much any other connected home gadget by voice. Google Nest and Amazon Echo are the two main brands, though Apple's HomeKit lets you use Siri on Apple devices, too.
Whether you're lucky enough to have a dedicated workout room or just an empty corner with enough space for a yoga mat, the smart home gym equipment market offers no shortage of options to help you work on your fitness in your own abode. Smart fitness devices allow for a level of interactivity far beyond their more affordable, non-connected counterparts. The Bike+ and many others offer large libraries of guided classes with knowledgeable instructors and/or customized workouts and programs based on your goals and current fitness level. It's like having a personal trainer in the comfort, safety, and privacy of your own home.
Fordewind.io is an IoT engineering and development company based in Kyiv, Ukraine. Our main areas of interest and expertise are the automotive industry and Smart Home/City projects. Contact us right now without a doubt and learn more about how we can help you build the future.